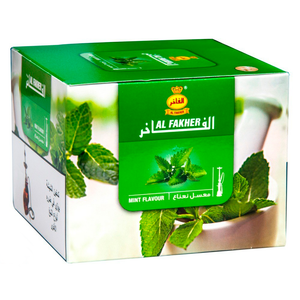 One of the most widely used hookah tobacco in world, Al Fakher is very easy to prepare and produces a delicious flavored clouds. Choose from any of the wide range of flavors and you won't be disappointed.
Get your favorite Al Fakher Shisha!
Looking for your favorite Al Fakher Shisha? Mob Hookah is there to make sure that you get the best. Well, it is one of the renowned brands of flavored tobacco available today. It is also called the king of Shisha tobacco, being one of the oldest as well as the longest sustaining hookah tobacco brands. It's the favorite brand of most experienced users of hookah. It offers a smooth and one of a kind smoking experience.
At Mob Hookah, we offer the best quality Al Fakher tobacco. Starting from all modern flavors to traditional flavors, Al Fakher Shisha has everything.

It is known for its taste, along with smoke and consistency.
It can be prepared with the utmost ease.
Within a few minutes, you are ready for a scrumptious session that creates amazingly flavored smoke clouds.
You do not require any kind of fancy equipment, as Al Fakher Tobacco is one of the most adaptable brands.
It is available on single-note flavors like orange, mint, and blueberry
Several types of flavors to choose from Mob Hookah, you will definitely come across something that will be your new favorite!
Why should you order from us?
We offer the best quality and latest style products at an affordable price.
Our customers are our first priority; therefore, we provide the best customer service.
The time that we take to deliver a product to your address is very minimal, and the ordering process is very easy.


Place your order and get your Al Fakher Shisha now!
Double Apple Al Fakher Shisha
Al Fakher has been one of the most trusted names in Shisha tobacco since its inception in 1999, and for good reason. Al Fakher provides high-quality, delicious shisha in over 100 countries around the globe. Wherever you travel, if you can find hookah, you cand Al Fakher shisha.
Al Fakher is one of the most trusted and dependable shisha brands on the market. They have a longstanding commitment to quality and excellence in the production of their shisha. They are also one of the leading researchers in shisha, which allows them to provide the best shisha that science can offer as they continually reformulate and adjust their products to provide the best possible shisha experience.
While Al Fakher offers some of the most delicious shisha flavors in the world (we suggest trying their mint flavor and sprinkling it into basically any mix you ever make) none can compare to the iconic deliciousness that is their Double Apple flavor.
That's right, you heard it here first — one apple simply wasn't enough. Al Fakher's Double Apple shisha packs twice the apple flavor in every puff. Double apple brings with it a sweeter, juicier apple taste without so much of that bitter licorice note that can come with other brands of apple-flavored shisha.
And boy oh boy does Al Fakher Double Apple shisha deliver —it tastes like smoking a green apple hard candy, except, somehow, even better. The extra sweetness and apple flavor mean that it tastes amazing on its own, and is also a great shisha to include in mixes to add an apple hint to any mixture you can come up with.
Al Fakher Double Apple is the perfect shisha for a crisp December evening, relaxing by the fireplace and enjoying a bowl of delicious shisha. It is also the perfect shisha for a summer afternoon in a sweet and fruit-forward bowl of shisha — it's a flavor that can be enjoyed any time of year, anywhere you are.
Recommended Mixes
While you can mix just about any shisha flavor you can get your hands on with Al Fakher Double Apple, there are some mixes that stand out above the rest. And luckily for you, the experts here at MOB Hookah have done all the experimenting for you to narrow down the best shisha mixes for Al Fakher Double Apple shisha.
For the perfect green fruit mixture, try mixing Al Fakher double apple with Al Fakher Kiwi, this will give you a tropical sweet fruity dream mix of shisha that is an absolute pleasure to smoke.
Al Fakher Double Apple also mixes well with Fumari White Gummy Bear, giving you a candy-sweet, tart shisha mixture that is almost too good to share.
Try either of these expertly crafted mixes, or try your own and let us know what flavors you like best with your Al Fakher Double Apple.