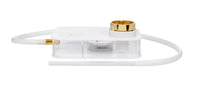 MOB BOX
Intrigue your guests with this modern, non ordinary looking, minimalistic design MOB BOX 2.0.
There is no doubt, this hookah was born to be a part of the night life of every city in the world, since its very steady, and impossible to Knock over .
made out of plexiglass makes it unbreakable .
Buy Now